Our specialist bike fitting service is designed to get you riding comfortably on your bike
Your bike and you are working together to achieve what you're aiming for in your cycling life. Whether you're a competitive cyclist or a leisure cyclist, being in the right position whilst you cycle can aid performance as well as help to reduce the risk of injury.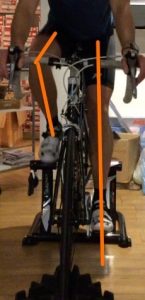 You may have been cycling for a number of years, or you may be new to it and have just bought yourself a new bike. Either way, having a bike fit assessment will benefit your cycling experience. We can advise as to how your cycling position can be improved as well as setting you off on the right track as a new cyclist. So whether you're a road cyclist, a mountain biker, a triathlete or a time trial cyclist, we can help you with our video analysis to identify areas of improvement and where your cycling position is best for you.
A bike fit assessment will help you:-
Cycle in the most comfortable and safe position for you – at the right saddle height, with the right pedal/cleat position and the correct handlebar reach and height
Correct issues that might be causing knee pain, back pain or hand numbness, for example
Improve aerodynamic efficiency and power on the bike
Get up those hills faster than your club riding friends (yes, we did just say that)!
Get back down those hills, efficiently and safely
We will analyse all your positions and alignments to ensure you have the best fit for you and your bike. In doing so, we can also identify any restrictions in movement you may have, any muscle imbalances and highlight any biomechanical issues that we can help with via a personal corrective exercise plan.
We will then advise and talk you through how best to make any corrections and get you pedalling as efficiently and effectively as possible.
Within the bike fit assessment we will also provide your set up measurements so that you can use these for other bikes or when re-setting up your current bike.