With a specialist team led by Christine Buckley, PhD, here at Fit For Purpose you can expect friendly, professional and knowledge-fuelled advice.
Christine
Christine Buckley, PhD Cardiovascular Physiology
Diplomas in sports massage & advanced remedial massage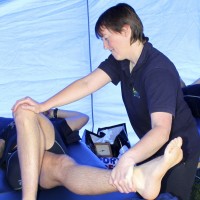 With a career spanning over 20 years, Christine works with clients up to international sports level and has been working with the British Triathlon Team at championship events since 2010. She was Sports Massage Practitioner at the Commonwealth Games in Glasgow in 2014 as part of the Medical Services Team and also works as a soft tissue therapist for British Athletics.
In 2016 she worked at the World Triathlon Championships in Cozumel, Mexico and at the British Athletics Track and Field Championships in Birmingham.
Christine has had great successes with both sports and non-sports clients who have been suffering with chronic problems or injuries.
Specialises in sports and remedial massage therapy, biomechanics and postural alignment issues, running biomechanics.
Loves to keep active! Runs, cycles, walks, potters in the garden, and spends time with her friends.
Recent courses include: Kinesio taping, advanced fascial release, neurodynamics, Biomechanics Coaching and running biomechanics.
---
Tim
Tim Done, ITEC & BTEC in Anatomy, physiology and sports massage at the London School of Massage.
An all-round sportsman, who represented Durham county at badminton and Darlington at cross country running. After a 30-year career in the West Yorkshire Police, Tim is now focusing his passion for sports therapy achieving full accreditation in sports massage/remedial therapy.
Loves to run. When he's not running, he is taking his children to various sports sessions and making rocking horses!
---
Val
Val is the friendly face of Fit for Purpose and you'll find her in our shop and reception to help with any advice you might need.
A regular fell runner, Val has always been involved in sport – from squash to hockey and athletics. She is currently the British Open Fell Runners Association lady veteran 45 champion and has gained two Fell Running Association bronze medals as part of the Wharfedale Harriers lady veterans team. She is now focusing on the national 3 peaks races and off-road marathons.
Loves to be out on the fells running. When she's not doing that, she's juggling family life and seeing her friends.