Christine
Christine Buckley, PhD Cardiovascular Physiology
Diplomas in sports massage, advanced remedial massage & biomechanics coaching.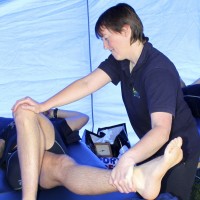 With a career spanning over 20 years, Christine works with clients up to international sports level and has been working with the British Triathlon Team at championship events since 2010. She was Sports Massage Practitioner at the Commonwealth Games in Glasgow in 2014 as part of the Medical Services Team and also works as a soft tissue therapist for British Athletics.
Christine has had great successes with both sports and non-sports clients who have been suffering with chronic problems or injuries.
Specialises in sports and remedial massage therapy, biomechanics and postural alignment issues, running biomechanics.
Loves to keep active! Runs, cycles, walks, potters in the garden, and spends time with her friends.
Recent courses include: Kinesio taping, advanced fascial release, neurodynamics, Biomechanics Coaching, running biomechanics, Strength & Conditioning for therapists.
---